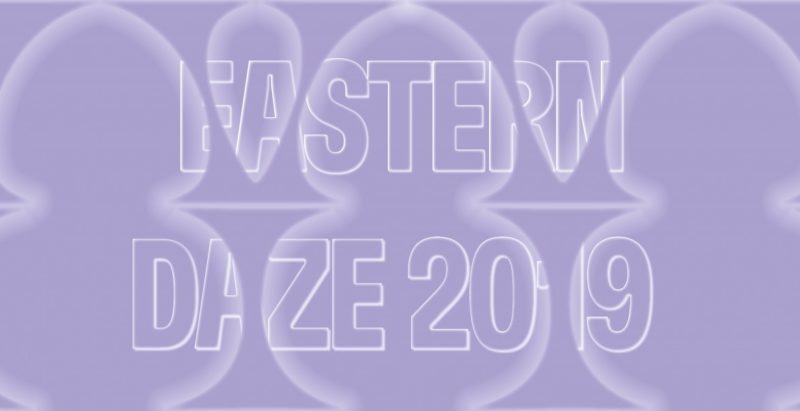 Wed. 20 November — Sat. 23 November 2019
KASKcinema Ghent
School of Arts — Miry Ghent
Vooruit Ghent

Doors at 21:00
Eastern Daze VI
Razen & Oona Libens (BE/SE), Poor Isa (BE), KOKOKO! (CG), Raymonde (FR), Laura Cannell (UK) Marja Ahti (FI), Brìghde Chaimbeul (UK), Tallawit Timbouctou (MA), Mdou Moctar (NG), Sote (IR), Rojin Sharafi (IR), KAVIR (IR/BE)
Eastern Daze - that genre-bending, intercontinental ping-pong between the traditional and the iconoclast - makes a roaring return for its sixth edition. This year's outing will be an exercise in transcending interdisciplinarity, weaving between nomadic desert music, texturally dense compositional experiments, and the lore and language of generations past for the modern era. Four days, three venues, one singularly ineffable stride towards new and beaten extrasensory frontiers.
A collaborative effort with Vooruit, MIRY Concertzaal, KASK Cinema, Meakusma Festival, KAVIR, De Studio & KRAAK.
With the kind support of Vlaamse Gemeenschap 'Vlaanderen, verbeelding werkt', Deutschsprachige Gemeinschaft 'Ostbelgien', stad Gent and KASK School of Arts.
| | |
| --- | --- |
| Wed | 5 |
| Thu | 10/13 |
| Fri | 19/22 |
| Sat (afternoon) | 10/13 |
| Sat (evening) | 20/23 |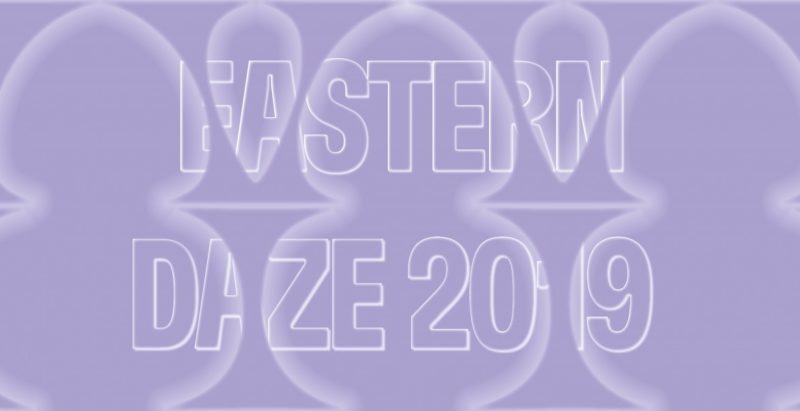 Wed. 20 November 2019

KASK cinema
| | |
| --- | --- |
| 20:00 | DOORS |
| 20:30 | Chronopolis (screening) |
| 21:30 | Maika Garnica & Aiko Devriendt |
Thu. 21 November 2019

School of Arts - Zaal Miry
| | |
| --- | --- |
| 20:00 | DOORS |
| 20:30 | Poor Isa |
| 21:30 | Razen & Oona Libens |
Fri. 22 November 2019

KC Vooruit
| | |
| --- | --- |
| 20:00 | DOORS |
| 20:30 | Raymonde |
| 21:30 | Kokoko! |
Sat. 23 November 2019

KC Vooruit
| | |
| --- | --- |
| 14:30 | DOORS |
| 15:00 | Marja Ahti |
| 16:00 | Laura Cannell |
| 17:00 | Sote |
| 18:00 | BREAK |
| 19:45 | Brighde Chaimbeul |
| 20:30 | Osilasi |
| 21:30 | Mdou Moctar |
| 22:45 | Rojin Sharafi |
| 23:30 | KAVIR dj's |
Film screening: 'Chronopolis'
Chronopolis is a gargantuan city somewhere in the vastness of space. The immortal inhabitants of the city, bored by their endless existence, one day decide to manipulate time itself. They do so by manipulating atomic particles and electricity and constructing bizarre objects in step with a repetitive rhythm. Ultimately they hope to come in contact with a human being.

This utterly unique animation film from 1982 is an original meditation on the notion of time. Director Piotr Kamler worked his claymation figures for no less than five years to create this film, and the result still stands up today, almost forty years later. 'Chronopolis' is a futuristic sci-fi fable that remains breathtakingly poetic in 2019.

The soundtrack for 'Chronopolis' is by none other than one of the godfathers of electro-acoustic music and musique concrète, Luc Ferrari. Ferrari, who would have turned 90 this year, was a legendary composer, who set a musical milestone in 1970 with his 'Presque rien No. 1 - Le Lever du jour au bord de la mer'.
Maika Garnica & Aiko Devriendt
As an artist, Maika Garnica is most at home at the intersection of environment, viewer and artist. She attempts to understand the complex relationship between form and substance through the use of sculptural prototypes, with the body as the driving force behind social connections. At EASTERN DAZE, Garnica will be accompanied by musical explorer Aiko Devriendt. Devriendt has followed courses in music therapy and composition and is active as a multi-instrumentalist, composer and producer for theatre, dance, film and installations. The duo will investigate the sonic spectrum of ceramic objects. They will follow their feelings and intuitions in translating this into atmospheric, almost dreamlike performances with abstract shapes and flowing sonic forms.
Razen & Oona Libens present 'Het Moederkoren'
Visual artist and musician Oona Libens and Razen – the group led by Brecht Ameel and Kim Delcour – present the premiere of their new audiovisual project. 'Het Moederkoren' is a reflection on ecstatic experiences and hallucinations from the Middle Ages. Razen and Libens share a predilection for forgotten analogue technologies. 'Het Moederkoren' is a dialogue, both musical and visual, between improvising artists.

The work of Oona Libens can be situated in the field of media archaeology. Using primitive tools, analogue projection techniques, shadow and light, she creates visual audio plays that are a cross between abstract animation films and educational documentaries.

Razen explores unorthodox musical worlds by means of improvisation using instruments such as the shawm, monochord, sārangī and hurdy-gurdy. Their latest KRAAK album, Ayîk Adhîsta Adhîsta Ayîk, marks the group's tenth year together and sees components of their own lore resurface in wholly inventive forms that weld medieval tradition, ethno-acoustic elements and otherworldly vibrations into a hypnotic sonic landscape.
Poor Isa
Ruben Machtelinckx and Frederik Leroux, aka Poor Isa, are coming to present their latest work. Played with a combination of prepared banjo and woodblocks, their improvisations flow into rippling compositions, enriched with subtle nuances and scarcely audible sounds.
KOKOKO!
The DIY techno of Congolese collective KOKOKO! is the most infectious sound of the moment. Using instruments constructed themselves out of found objects from the streets of Kinshasa – jerry cans, oil barrels, saucepans – they make 'tekno Kintueni': fast techno with pumping Congolese rhythms. Fongola is the band's debut LP. A clattering mix of metal percussion, freaky rhythms, fast beats and cutting lyrics about the harsh but resourceful reality of living in Kinshasa.
Raymonde
Effects, a battery of 4-track tape loops and samples from all corners of the globe: welcome to the wondrous world of Raymonde. Hailing from the Lyon, this electronica genius likes to serve up an eclectic ratatouille of tropical ambient and (cracked) musique concrète. His debut Ce qui est en bas, est comme ce qui est en haut; et ce qui est en haut est comme ce qui est en bas was released last year on the ever-excellent Brussels-based label Vlek.
Sote presents 'Parallel Persia' ft. Arash Bolouri, Pouya Damadi & Arash Akbar
It's safe to say that Ata Ebtekar, alias Sote, is the godfather of Iranian experimental electronica. With his label Zabte Sote he supports many artists from the Iranian diaspora – including Rojin Sharafi and Nima Aghiani. He also releases his own work through renowned labels such as Warp, Sub Rosa and Opal Tapes. In his compositions Sote deconstructs rules and formulas to create lively synthetic soundscapes.

Out of his last project, 'Parallel Persia' (which premiered in 2018) grew a new album that was released this past May.
Laura Cannell
A violin and two recorders is all the British artist Laura Cannell needs to evoke a fairytale universe, a world where ruins from a grey past are all that remain. With her half-composed, half-improvised pieces, she explores the space between experiment and tradition.

Cannell will present a minimal chamber piece from her new album Waters Deep Cathedral, set to be released in 2020. This album was written and recorded in the Wapping Hydraulic Power Station on the banks of the Thames in London. She'll also play pieces from her latest solo album The Sky Untuned. "A fascinating and involving album, communicating with an unflinching directness that is sometimes almost raw, and often very beautiful." – The Quietus
Marja Ahti
This Swedish-Finnish musician and composer Marja Ahti combines field recordings and other acoustic sound fragments with synths and electronic feedback loops. In this way she creates musical narratives centred on subtle microtonal beats and subdued textures. Formerly performing under the Tsembla moniker, Ahti has been part of the experimental scene in Finland for over ten years and, together with her partner Niko-Matti Ahti, is also one half of the duo Ahti & Ahti. Through her latest album Vegetal Negatives – out this year on the Swiss label Hallow Ground – Ahti explores a new formal language and ambient-like musical palettes.
Mdou Moctar
Mdou Moctar – the artist formerly known as Mahamadou Souleymane – grew up with guitar on his mind in a remote village in Niger. Since guitar-trees don't grow so well in the Sahel, he had to craft his own out of a plan of wood and some brake cables. He learnt to play from YouTube videos of Eddie van Halen. And he did all this in secret, since the religious village community was not so impressed by his new hobby. He started performing at weddings and parties as Mdou Moctar before recording his first unofficial release in Nigeria in 2008. These recordings ended up, via cell-phone music trading networks, on a compilation from the label Sahel Sounds, Music from Saharan Cellphones. The artist went on to release two albums before catching the eye of the American producer Chris Koltay. March 2019 saw the release of Ilana (The Creator), his first LP to be recorded in the USA.
Brìghde Chaimbeul
Chaimbeul grew up on the Isle of Skye, where she soon became acquainted with the sound of the pipes through living legend Rona Lightfoot. From the age of seven she herself began to play and developed a style rooted in the Gaelic language and culture. She would go on to garner inspiration in Brittany, Ireland and Eastern Europe. With The Reeling she has come out with one of the most captivating folk albums of 2019. And for those without the gift of the Gaelic gab, her name is pronounced 'Bree-chu Campbell" (with the 'chu' of church).
Osilasi
Brussels-based Osilasi is the duo formed by Léa Roger (Guili Guili Gulag) and Célia Jankowski (Vitas Guerulaitis). Using the harp and drums as their main conveyors, they reinterpret traditional music from all over the world through a speculative approach that binds repetition and rhythm into a profoundly trance-inducing experience. A hypnotic dose of auditory shamanistic exercises.
Afterparty with Rojin Sharafi
The Austro-Iranian sound artist Rojin Sharafi – a resident artist at Gouvernement last spring – keenly grabs from many musical buckets: noise, folk, ambient, classical, metal... She recently signed with the Zabte Sote label and collected her work in 'The Tehran Borns productions': bold releases with both (semi-)acoustic and electronic compositions and soundscapes accompanied by visuals. Sharafi alternates musically between raw and tender, but often with a surprising edge. In September she releases her latest album, Urns Waiting to be Fed.
KAVIR DJs
Kavir is a platform that unites Iranian and Belgian artists. In addition to Rojin Sharafi and Sote, they'll also be bringing two regular KAVIR DJs to Ghent: Losse Veter (heavy industrial) and De Zoon (beefy UK sounds that dip into new wave territory) will be providing us with energetic and eclectic sets. Crat makes the programme complete with a set that combines fierce global ghettotech, shantyhouse and old school hardcore.